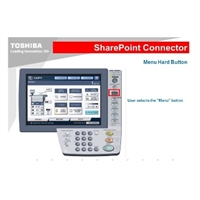 e-BRIDGE Sharepoint Connector
The Toshiba e-BRIDGE SharePoint Connector is one of a series of Open Platform Connectors to allow increased functionality of your office device. These connectors also facilitate simpler integration as Toshiba understands that every workplace functions differently and prefers to use different software tools.
The SharePoint Connector allows a whole new world in terms of document archiving and sharing. The MFD scan interface is fully integrated with SharePoint to increase your document workflow efficiency. Take advantage of enhanced security with restricted access to user sites and lists with login security.
Browse your SharePoint® folders on the MFP control panel
Increased security thanks to sophisticated access control
Simply index dedicated fields to manage and retrieve scanned documents
Preview and edit your documents on the MFP touch screen
Save you documents in the required format including PDF/A for archiving with e-BRIDGE Re-Rite
Brand :
Toshiba
Category :
Software Solutions